Red box for hazardous waste and small elekctronic devises at each household
Hazardous waste such as oil, paint, poison, batteries, spray cans etc. must be handled with precaution, because it presents a potential danger to the environment and in some cases to individuals, too. Serveral solutions for collection of the hazardous waste are offered in order to make it as easy as possible for the citizens.
Electronic devises such as mobile phones and chargers can also be collected at the household in the red box.
You can order the red box by clicking the link below. (In Danish only)
Self service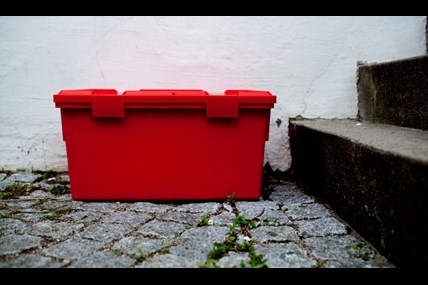 Each household has been given a red box for storage and transport of hazardous waste. The hazardous waste, whether in the red box or not, may be handed in by the household:


at Odense Waste Management Company's headquarters all days
at the Industrial Recycling Center all days, and
at local recycling stations every 6th weekend in our mobile hazardous waste truck

The red box may also be collected directly from the household by previous agreement with us. Medical waste from private households (including used insulin syringes) may be handed in at pharmacies.
If you don't have the red box, and you wish to get one, you can order it by emailing us on: kundeservice@odenserenovation.dk