Waste can actually be entertainment
Waste is often described as a boring subject and as gross and unaesthetic. 
In Odense Waste Management, we are eager to change this perception: We want the citizens to understand that waste can actually be a very interesting and fun subject - and it can easily by presented aesthetically.
Check it out below...Doesn't it look fun to learn about waste?
Color book - stone age waste  
The color book can be ordered in print or it can be colored digitally.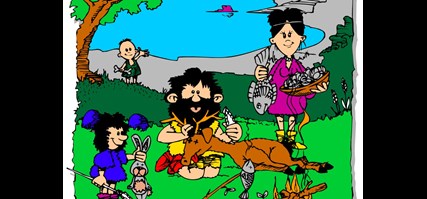 Waste before, now and in the future
Book about waste before, now and in the future - with reading drills for 3. - 4. grade students. .
Raindeer Rikke looks at waste in the wood 
A picture book where kinder gardens hear the story of Rikke the Raindeer who sees waste littered in the wood.4